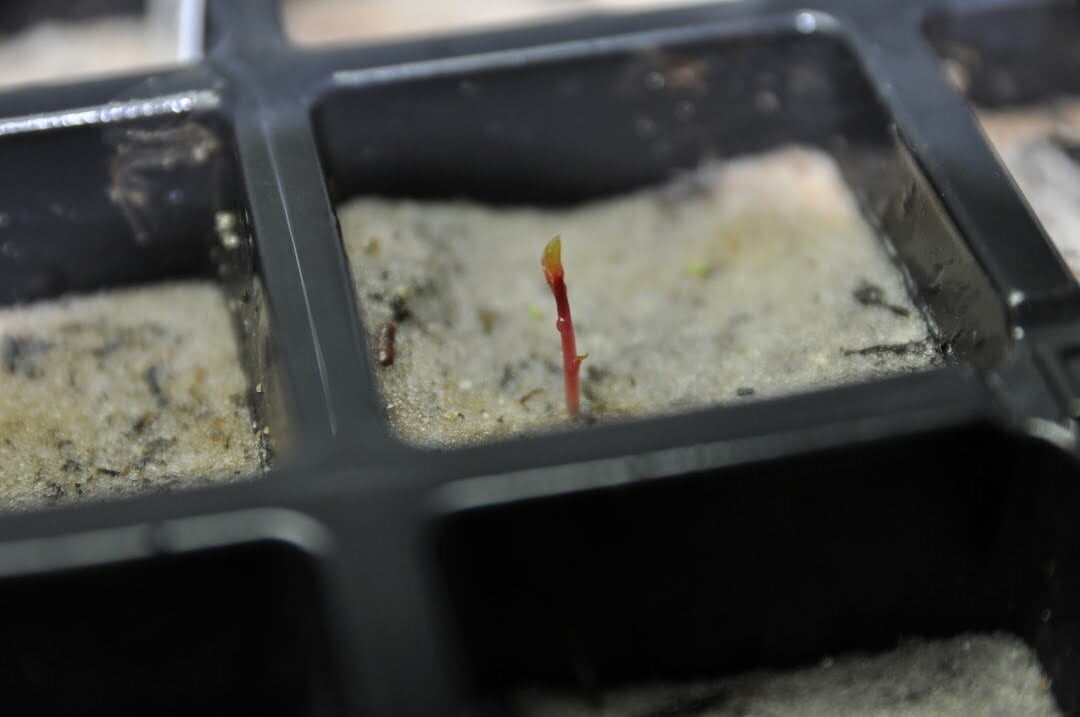 Johnny Butterflyseed Celebrates First Scrub Plum (Prunus geniculata) Sprout
Seventy-five days after germination, Johnny Butterflyseed had his first Scrub Plum (Prunus geniculata) seedling break the sandy, quartzipsamment surface of their germination beds.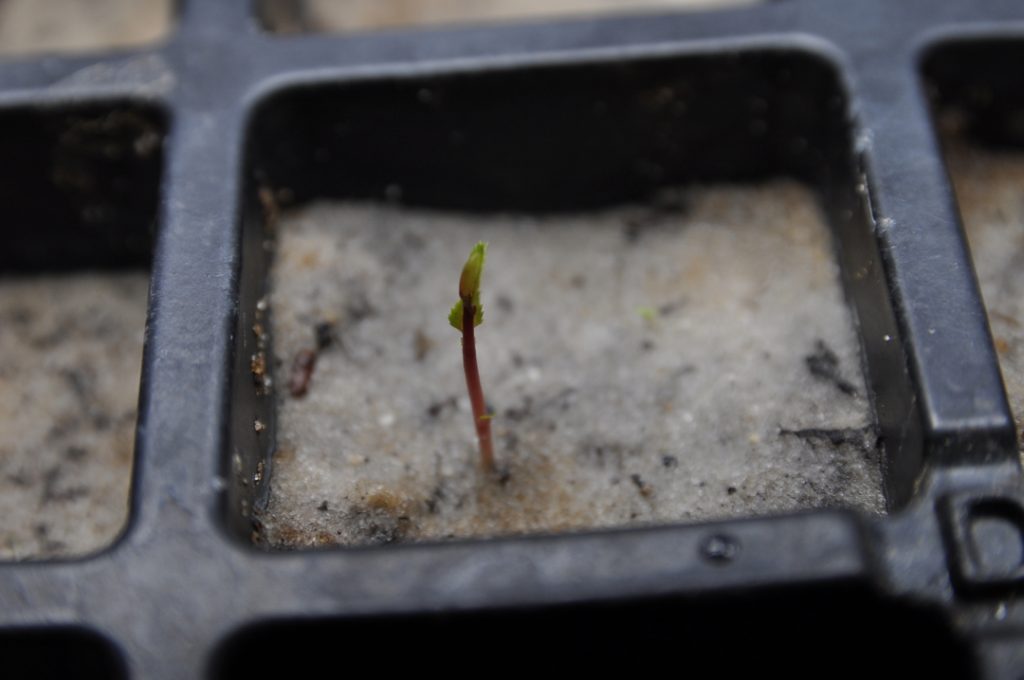 Following the Center for Plant Conservation guidelines for collection, Johnny was lucky enough to harvest a very small number of Scrub Plums from his collection to use for germination trials. The large majority of plums were left for predation by American Black Bear (Ursus americanus), White-tailed Deer (Odocoileus virginianus), and Gopher Tortoises (Gopherus polyphemus). Johnny believes these vertebrates' digest and disperse the seeds in the wild.
For the relatively speedy germination, Johnny can thank his his protocol laid out in the post "Endocarp Removal for Scrub Plum," which outlines the process to remove the embryo's tough, outer shell, called the endocarp. Removal of the endocarp reduces time to germination by a factor of seven. It would seem the purpose of the endocarp is to prevent germination until the conditions are correct. We know, however, our conditions are correct. Thus, instead of up to 18 months or more for the endocarp to break down naturally, the embryo can get an immediate start. Treating the embryo, still in its seed coat, for 24 hours with a 500 parts-per-million gibberellic acid (GA3) further encourages germination, thereby further reducing time to sprout.
75 days to sprout is very reasonable for Scrub Plum, especially considering a true seedling in the wild has never been observed. This means Scrub Plums could become commercially viable, when following Johnny's protocol.
Johnny's goal is to see Scrub Plum yearlings for sale at ethical native nurseries across the state of Florida. The long-term goal is, of course, to see Scrub Plums removed from endangered and/or threatened status, and that people can install Scrub Plums in their yards and enjoy the gorgeous flower display and the resulting fruit. Johnny also hopes to see rows of Scrub Plum interspersed with rows of Florida's famous citrus, since both species love the sandhill habitat.
Johnny is sure that together, we can restore Florida's most threatened and endangered species, especially Scrub Plum… one day at a time!
Endangered Species Caregiver White Ceramic Mug 11oz
Are you passionate about helping save endangered species? Join Johnny Butterfly's mission to save endangered species…. one day at a time. Become an endangered species caregiver! Proudly display the "Endangered Species Caregiver" logo on one side of your mug with Johnny & Raven on the other side. Perfect balance.
A classic bestseller, this custom mug is fo…